"A DROP OF WATER - A GRAIN OF GOLD"
The festive celebrations took place throughout the country on occasion of the national holiday "A Drop of Water - A Grain of Gold" that is widely celebrated in Turkmenistan on the first Sunday of April. This day has reflected the national tradition and the wisdom of the Turkmen people who have carefully treated water as a priceless gift for many centuries of their history.
This day veterans and best workers of the water sector are feted, and thousands of people participate in numerous activities, which are organized, mainly, on the riverbanks throughout the country. Mass festivities are accompanied with art and sport performances and exhibitions of art works.
The bank of the Karakum River in northern par of the capital became the main venue of festivities. The performance of vocal and dance group of the Turkmen Agriculture University opened the celebration. All participants of the festival tested Turkmen specialities.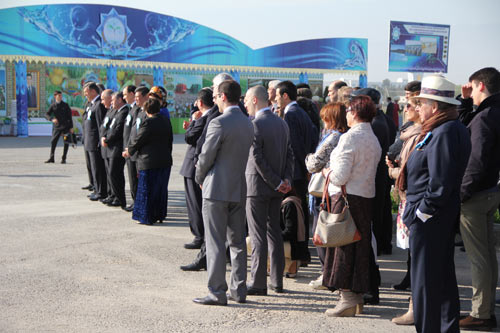 Among the guests of the festival were cabinet officers, leaders of Mejlis (Parliament), ministries and authorities, heads of diplomatic missions accredited in Turkmenistan, representatives of non-governmental organizations, foreign visitors, elders, veterans, best workers in the water sector, university teachers and students, journalists and numerous citizens and guests of the capital.
Open-air stands in the park on the Karakum riverside demonstrated vivid dynamics of developments in agro-industry and water sector. The participants of the exhibition included national associations, such as Turkmengalaonumleri, Turkmenbakhizmat, Turkmen food industry associations, Turkmenpagta state concern, State livestock associations, and etc. They showcased their stock and new products, up-to-date equipment and technologies.
Stands of the regional water management organizations demonstrated methodology for biological treatment of water bodies, models of hydraulic facilities, modern reclamation systems, and samples of resource-saving equipment in operation, such as sprinklers and drip irrigation system. Powerful machines from the world manufacturers were also showcased.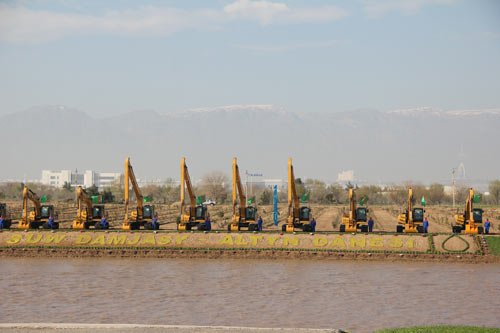 The performance of folk groups from viloyats (provinces), who arrived to the capital with the best spots, gave profound authentic tone to the celebration. Another impressive entertainment was a demonstration of ancient water management traditions.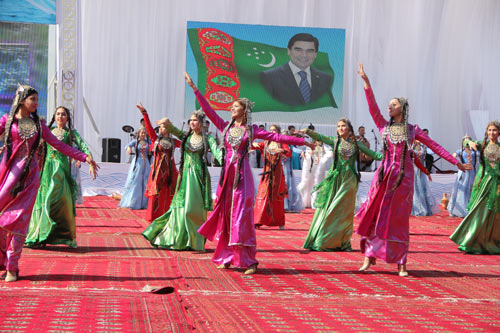 The performances of sportsmen became a memorable part of the festival.
As a part of festivities, a planting of young trees was organized in the new park on the Karakum riverbanks. All participants took part in this ceremony.
This unforgettable holiday united people of different professions and specialization, including land reclamation and hydraulic engineers, mirabs and machine operators, technologists and builders. By tradition, the best of them were awarded with valuable presents on behalf of the President of Turkmenistan, Gurbanguliy Berdimuhamedov.
A big concert by the masters of arts adorned the holiday.
Source: Turkmenistan: the Golden Age