MARCH 22 – WORLD WATER DAY
World Water Day is held annually on March 22. An international day to celebrate freshwater was first recommended at the 1992 United Nations Conference on Environment and Development (UNCED). In 1993, The United Nations General Assembly decided to annually celebrate it.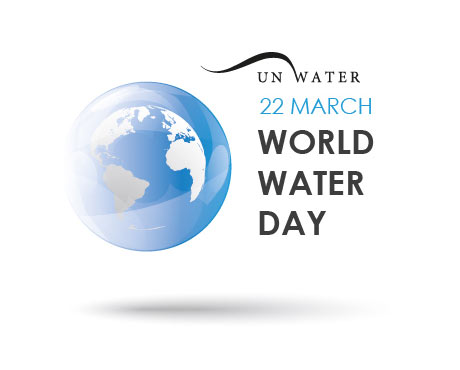 The World Water Day is to:
Facilitate appropriate measures to solve the problem of freshwater supply to population.
Raise public awareness on the importance of protection and conservation of freshwater and of water resources in general.
Involve governments, international agencies, non-governmental agencies and private sector in celebrating the World Water Day.
Each year activities under the World Water Day were dedicated to a specific theme, such as Caring for our water resources is everyone's business, The World's Water – is There Enough?, Groundwater – the Invisible Resource, Water for Health – Taking Charge, Coping with Water Scarcity, Clean Water for a Healthy World, Water for Cities, Water and Energy, Water and Sustainable Development, etc.
UN proclaimed the period 2005- 2015 as the International Decade for Action "Water for Life".
The theme of the 2017 World Water Day is wastewater. On this occasion, the UN World Water Development Report, Wastewater: the Untapped Resource was launched in Durban, South Africa.
The report states that once treated, wastewater may become an invaluable resource for meeting the growing demand for freshwater and other raw materials.
"Wastewater is a valuable resource in a world where water is finite and demand is growing", says Guy Ryder, Chair of UN-Water and Director-General of the International Labor Organization. "Everyone can do their bit to achieve the Sustainable Development Goal target to halve the proportion of untreated wastewater and increase safe water reuse by 2030. It is all about carefully managing and recycling the water that runs through our homes, factories, farms and cities. Let's all reduce and safely reuse more wastewater so that this precious resource serves the needs of increasing populations and a fragile ecosystem".
"The 2017 World Water Development Report shows that improved wastewater management is as much about reducing pollution at the source, as removing contaminants from wastewater flows, reusing reclaimed water and recovering useful by-products. […] Raising social acceptance of the use of wastewater is essential to moving forward", argues UNESCO Director-General Irina Bokova in her foreword to the Report.
The report is available at the UNESCO website.