REGIONAL WORKSHOP "INSTITUTIONAL MECHANISMS FOR TRANSBOUNDARY WATER COOPERATION"
On 17-18 July, 2017, the third regional workshop on "Institutional mechanisms for transboundary water cooperation" was held in Almaty, Kazakhstan. The event was organized by the United Nations Regional Center for Preventive Diplomacy for Central Asia (UNRCCA) in cooperation with the Regional Environmental Center for Central Asia (CAREC) under the series of workshops on "Ensuring equitable use and efficient management of transboundary watercourses in Central Asia through international diplomacy, law and institutions: theory and practical solutions".
Representatives of relevant ministries and agencies in the Central Asian states and Afghanistan, UN agencies (RCCA, World Bank, UNECE, and UNESCO), CAREC, US government, international and regional organizations (SIC ICWC, EU Delegation to Kazakhstan, and GIZ), as well as independent experts took part in the workshop.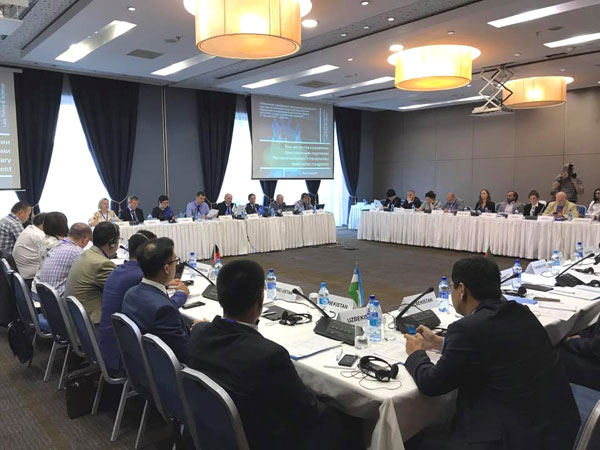 The event was aimed at developing mutually beneficial cooperation on transboundary water management in Central Asia by implementing legal instruments for joint and sustainable use of transboundary watercourses.
Special Representative of the United Nations Secretary-General for Central Asia Petko Draganov addressed at the opening of the workshop. He underlined that it was a platform to share knowledge, opinions and experience in joint water resource management. He called all Central Asian countries to support IFAS, having stressed that the capacity of the organization has not yet been fully mobilized. In this regard, two conventions on the Amudarya and Syrdarya River basins can serve as a platform for further negotiations. These were developed by UNRCCA and accommodate the interests of all concerned states.
International experts Sergey Vinogradov (Great Britain) and Dr. Richard Paisley (Canada), Dr. Dinara Ziganshina (SIC ICWC), Marguerite de Chaisemartin (UNESCO International Hydrological Program), and Alexander Nikolaenko (GIZ) made their presentations.
The two-day workshop addressed the most pressing issues related to transboundary water cooperation, mechanisms and recommendations for strengthening institutional framework for cooperation. Sessions devoted to regional organizations in the Aral Sea basin, which were established by the initiative of the Central Asian countries, have aroused a particular interest and stimulated discussions. The participants had an opportunity to compare the experience in establishment and operation of these organizations with other regions and basins in the world, as well as to see their important role in maintaining peace and stability and ensuring conflict-free water resource management in the Amudarya and Syrdarya basins over 25 years. The need to reform the institutional basis for transboundary water cooperation in the region was also discussed to find more efficient solutions to the present development issues.
Photo: Facebook