THE FIFTH MEETING OF THE REGIONAL ORGANIZATIONS INVOLVED IN SUSTAINABLE DEVELOPMENT AND WATER MANAGEMENT IN CENTRAL ASIA
On September 4-5, 2017, the fifth meeting of the regional organizations involved in sustainable development and water management in Central Asia was held in Tashkent. It was organized by the Scientific Information Center of the Interstate Commission for Water Coordination in Central Asia (SIC ICWC) and Regional Environmental Center for Central Asia (CAREC) with the support of the German Society for International Cooperation (GIZ) under the project "Strengthening capacity on sustainable water management at the regional, national, and basin levels".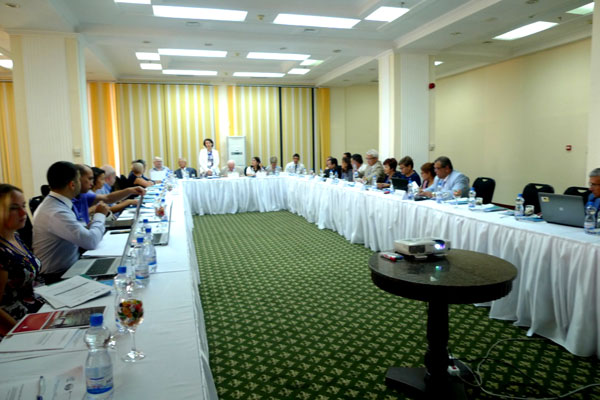 Photo by CAREC
The representatives of the IFAS Executive Board in Kazakhstan and Uzbekistan, Regional Center of Hydrology, Basin Water Organizations Amudarya and Syrdarya, Regional Mountain Center for Central Asia, United Nations Economic Commission for Europe, Central Asian Institute for Applied Geosciences, and National Water Partnerships of Kazakhstan, Tajikistan, and Kyrgyz Republic attended the meeting.
The meeting was aimed at discussing mechanisms for cooperation between regional organizations, as well as with key stakeholders and community in the light of promotion of integrated water resources management.
A special focus was on strengthening capacity of regional and national organizations, including programs on building capacity of experts from water sector and related sectors in the Central Asian states. The participants shared the results related to the assessment of needs and capabilities of regional organizations in mutual training and sharing knowledge and experience, as well as the results of the joint regional projects.


Photo by CAREC
During these days in Tashkent, the meetings of two Working Groups on Building Capacity of Regional and National Organizations and Implementation of IWRM and Adaptation to Climate Change were organized with the support of EU's project "Promoting dialogue for conflict prevention related to environment, water nexus issues in Central Asia: Central Asia Water-Nexus Cooperation". These were held under the "Implementation Plan on strengthening ICWC activities in key directions" approved in 2014.