CENTRAL ASIAN INTERNATIONAL SCIENTIFIC-PRACTICAL CONFERENCE
THE 25 YEARS OF WATER COOPERATION IN CENTRAL ASIA:
LESSONS LEARNT AND FUTURE OUTLOOK
The Central Asian International Scientific-Practical Conference "The 25 years of Water Cooperation in Central Asia: Lessons Learnt and Future Outlook" was held on 23-24 November 2017 in Tashkent.
The Conference was dedicated to the 25th anniversary of the Interstate Commission for Water Coordination (ICWC) in Central Asia, which was established on February 18, 1992 upon the initiative of water ministers and with the support of the Heads of the region's states, including Kazakhstan, Kyrgyzstan, Tajikistan, Turkmenistan, and Uzbekistan. Water cooperation in Central Asia is integral to activity of ICWC, which is comprised of the heads of national water ministries and departments. As long as 25 years, ICWC has been maintaining conflict-free distribution of common water resources and ensuring service ability of all interstate watercourses and structures.
Several events were organized as part of the ICWC anniversary celebrations in the course of 2017. Those included the International Scientific and Practical Conference "Challenges and Prospects of Effective Water Management against the Backdrop of Globalization" (11-12 April 2017, Tashkent), International Scientific and Practical Conference "Transboundary Cooperation in Central Asia – Sustainability and Prosperity of the Region" (7 September 2017, Almaty), International Conference "Blue Peace Central Asia: Dialogue for 2030 - Water Security and Inclusive Growth" (18-20 June 2017, Astana), as well as meetings of working groups on the Implementation Plan on strengthening ICWC activities (6 June 2017 in Ashkhabad, 4-5 September 2017 in Tashkent, and 7 September 2017 in Almaty).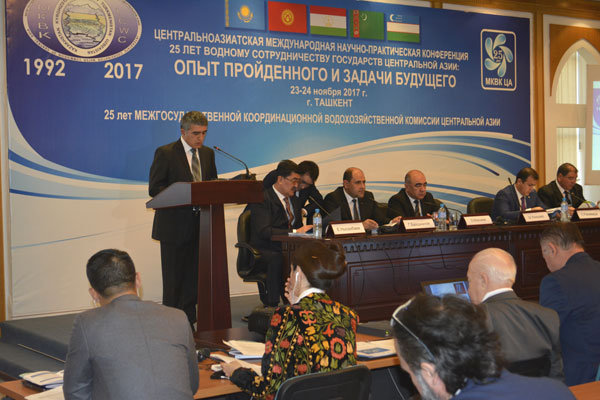 The anniversary events were organized by the Ministry of Agriculture of Kazakhstan, Ministry of Energy and Water Resources of Tajikistan, Ministry of Agriculture and Water Resources of Turkmenistan, Ministry of Agriculture and Water Resources of Uzbekistan and the Scientific Information Center of ICWC with the support of the Asian Development Bank (ADB), Swiss Agency for Development and Cooperation (SDC), Organization for Security and Cooperation in Europe (OCSE), and U.S. Agency for International Development (USAID).
The Conference was attended by about 250 representatives of various national, regional, and international organizations from more than 15 countries, including representatives of embassies, UNDP, German Society for Cooperation (GIZ), ADB, WB, OSCE, UNESCO, International Commission on Irrigation and Drainage (ICID), Geneva Water Hub, International Network of Basin Organizations, Global Water Partnership for Central Asia and Caucasus, National Water Partnership (NWP) GEF Agency of the International Fund for saving the Aral Sea in Uzbekistan, Basin Water Organizations of Amu Darya and Syr Darya, Central Asian Regional Environmental Center, Central Asian Institute for Applied Geosciences, Regional Hydrology Center, etc.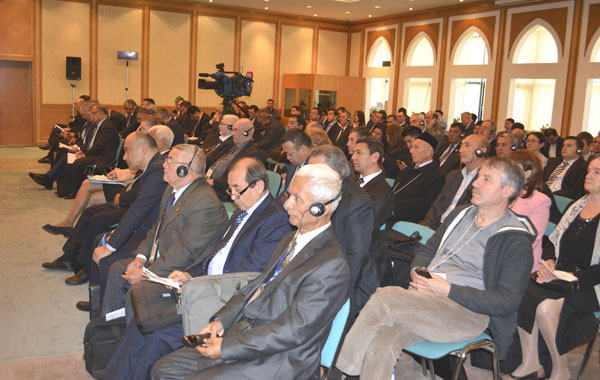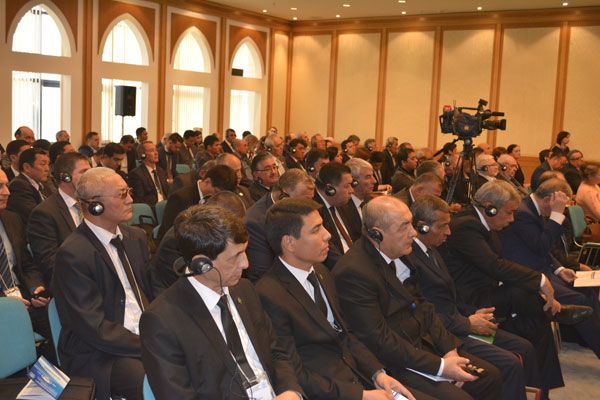 The main objectives and tasks of the anniversary events were to:
review the progress and demonstrate achievements made during the 25-year long activity of ICWC in the area of interstate water cooperation in Central Asia;
increase visibility of ICWC as a regional institutional mechanism for transboundary water cooperation;
facilitate formulation of future tasks before ICWC that would contribute to enhancement of mutually beneficial cooperation between the Central Asian countries in the field of efficient water use and protection in the region;
revitalize development partners' attention to ICWC;
demonstrate cutting-edge knowledge, best practices and scientific achievements in the field of water use and protection and promote innovations for sustainable water management.
The highly topical conference program included three plenary sessions and six round tables, as well as a special session. During two days, the participants had the opportunity to learn about results of activities in the sphere of Central Asian water cooperation and set milestones for further development and strengthening of close cooperation between the countries in the region. The 72nd meeting of ICWC was also held on the 24th November 2017 as part of the conference.
At the opening ceremony, Deputy Premier of the Republic of Uzbekistan and Minister of Agriculture and Water Resources Mr. Mirzaev welcomed the participants on behalf of the Government of Uzbekistan.
The key reports summarizing ICWC activity over 25 years were presented by the Chairman of the Executive Committee of the International Fund for saving the Aral Sea Mr. Bayjanov Guyzgeldy, as well as by the heads of country delegations from Kazakhstan, Tajikistan, Turkmenistan, and Uzbekistan.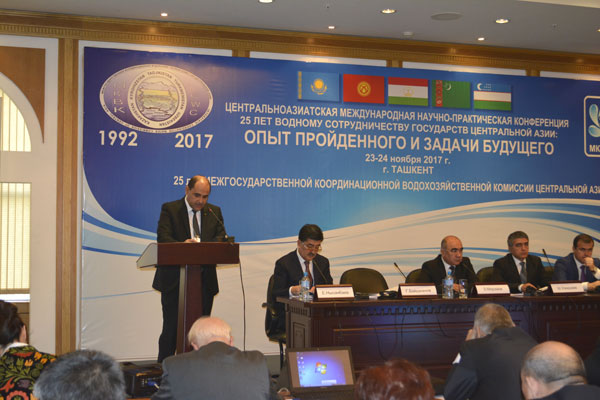 Directors of executive bodies of ICWC, honorary members and veterans of ICWC, as well as representatives of the diplomatic corps and international organizations delivered their speeches on the role of ICWC as a regional institution of interstate water cooperation in Central Asia during the plenary sessions as well.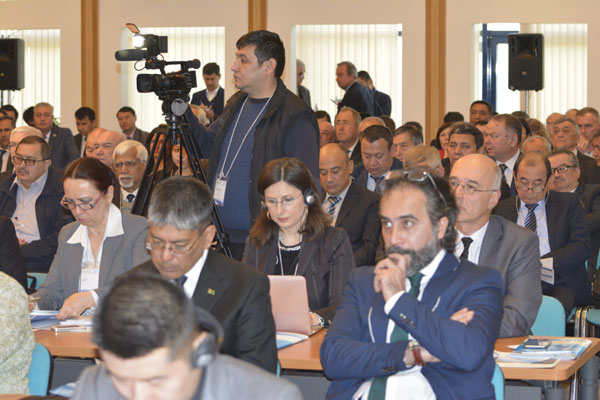 Particular attention was paid to transboundary cooperation as an important driver of food, energy, and environmental security in Central Asia, as well as to actions to overcome growing challenges caused by depletion of available freshwater.
During parallel roundtables, the participants addressed such topical and important issues as integrated water resources management as a tool for 'green growth' and adaptation to climate change, improving legal framework of water cooperation and promoting water diplomacy as a prerequisite for good neighborly relationship between the Central Asian countries, enhancement of water education and professional development as well as improvement of regional and national training activities in Central Asia, financial and economic mechanisms of water management and use, and also issues related to sound water use and ecology.
The special session was organized with participation of young water professionals to address the water use related issues.
On the occasion of the 25th anniversary of ICWC, the awards were presented for diligent work and strong contribution to international and regional water cooperation to specialists of country water sectors in the Aral Sea basin. More than 100 people were awarded in total.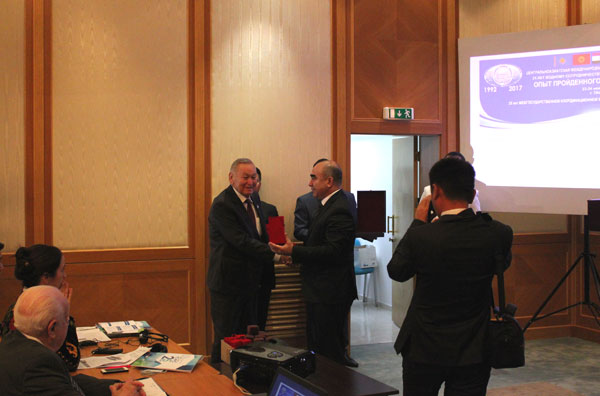 One of key events was the Central Asian International Exhibition "Water Technologies and Industry – WATER-2017", which was organized during the first day of the conference.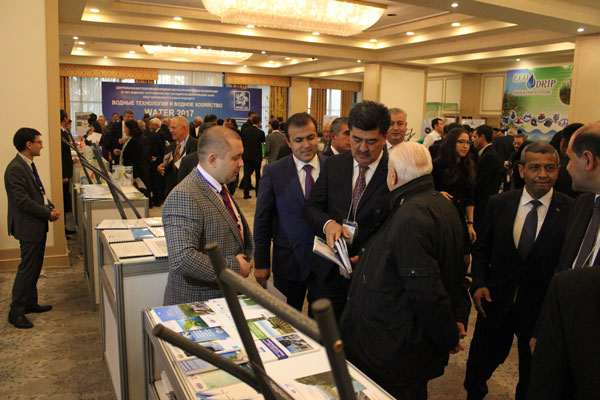 The exhibition showcased best practices and scientific achievements in the area of water conservation and sound water use, automation of waterworks facilities, metrology and up-to-date water accounting facilities.
The Russian version of the Report of the Global High-Level Panel on Water and Peace "A Matter of Survival" was presented for the first time during the conference by Mr. Yerlan Nysanbayev, Vice Minister of Agriculture (Republic of Kazakhstan) and a member of this Panel.
A Symphony for Water and Peace composed progressively during two years as the Panel convened in different countries (Switzerland, Senegal, Costa Rica, and Jordan) was performed at the Gala anniversary dinner.
Finally, the Conference adopted its resolution.
To learn more about Conference, please visit icwc-aral.uz/25years/.
The Conference and the preceding events have constituted a part of the regional preparatory process to the 8th World Water Forum to be held in Brasilia in March 2018.