72nd REGULAR MEETING OF THE INTERSTATE COMMISSION FOR WATER COORDINATION IN CENTRAL ASIA
The 72nd regular meeting of the Interstate Commission for Water Coordination (ICWC) in Central Asia was held on the 24th of November 2017 in Tashkent.
The member of ICWC from the Republic of Uzbekistan Mr. Sh. Khamraev chaired the meeting. The members of ICWC from the Republic of Kazakhstan Mr. Ye.Nysanbayev, from the Republic of Tajikistan Mr. S.Rakhimzoda, and the authorized representative of the Ministry of Agriculture and Water Resources of Turkmenistan Mr. B.Mommadov took part in the meeting. Heads of executive bodies, such as BWO Amu Darya, BWO Syr Darya, SIC ICWC, and Secretariat, and invited persons also participated in the meeting.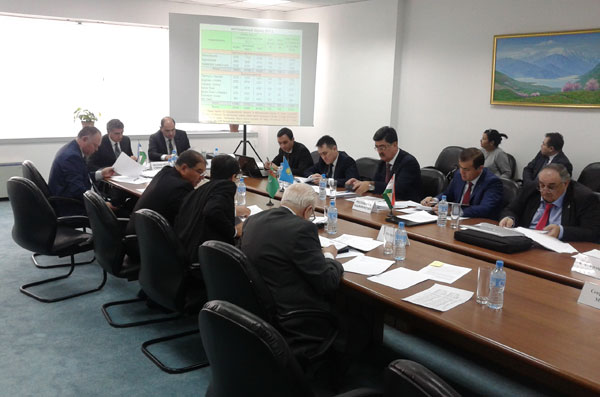 The following items were addressed in the agenda:
1. Results of the use of water withdrawal limits and the operation regimes of reservoir cascade in the Syr Darya and Amu Darya River basins over the growing season 2017 and forecasts for the non-growing season 2017-2018.
2. Progress on the "Implementation Plan on strengthening ICWC activities in key directions"
3. Agenda and venue of the next 73rd regular ICWC meeting
4. Supplementary items
Decisions were made on all items of the agenda.
On the occasion of the 25th anniversary of ICWC in Central Asia, the title "Honorary member of ICWC" was awarded to:
Kokhir Rasulzoda, Prime-Minister of the Republic of Tajikistan;
Islam Abishev, Chairman of the Committee for Water Resources, Republic of Kazakhstan;
Shavkat Khamraev, Deputy Minister of Agriculture and Water Resources, Republic of Uzbekistan;
Khamid Khasanzoda, Deputy Director of the Agency for Land Reclamation and Irrigation at the Government of Tajikistan;
Begench Mommadov, Head of Water Use Department, Ministry of Agriculture and Water Resources, Turkmenistan;
Ismat Eshmirzoev, former Minister of Land Reclamation and Water Resources, Republic of Tajikistan.
The breastplates "Veteran of ICWC" and "For active work" were awarded to distinguished members of water-management organizations in Central Asian countries as well.
Next 73rd meeting of ICWC is planned to be held in Kyzylorda.