SIC ICWC PARTICIPATED IN THE NATIONAL WATER POLICY DIALOGUE MEETING IN KAZAKHSTAN
On December 7, 2017, the meeting of the National Policy Dialogue on IWRM was organized in Kazakhstan. The event was aimed at sharing experience in conducting national water policy dialogues in the Central Asian countries, as well as drawing proposals on regional cooperation under the UNECE Convention on the Protection and Use of Transboundary Watercourses and International Lakes (UNECE Water Convention).
The meeting was opened by Mr.Ermek Kosherbaev, Executive Secretary of the Ministry of Agriculture of the Republic of Kazakhstan, Ms. Francesca Bernardini, Head of the UNECE Water Convention Secretariat, H.E. Urs Schmid, Ambassador of Switzerland to Kazakhstan and Tajikistan, H.E. Peter Juza, Ambassador Extraordinary and Plenipotentiary of the Slovak Republic, Ms. Snejana Popova, EU Delegation to Kazakhstan, and Ms. Diana Digol, Deputy Head of the OSCE Program Office in Astana.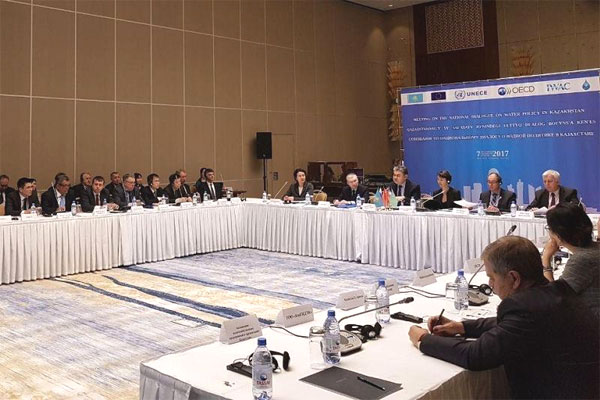 Photo credit: Kazinform
The role the UNECE Water Convention and the International Water Assessment Center play in developing transboundary water cooperation was discussed during Session 1. Particularly, Ms.Bernardini spoke on the Water Convention's contribution to develop transboundary water cooperation. Mr. Boris Minarik (Slovak Hydrometeorological Institute) and Mr. Jos Timmerman (Wageningen Environmental Research, Netherlands) spoke on the experience of the International Water Assessment Centre in implementing Water Convention in the Slovak Republic and Netherlands, respectively. Mr.Serik Akhmedov, Director of newly-established International Water Assessment Center in Kazakhstan, presented the role, objectives and future perspectives of the organization.
Mr. Giovanni Capannelli, Country Director of the Asian Development Bank in Kazakhstan, shared information on the Central Asia Regional Economic Cooperation Strategy 2030 (CAREC Strategy 2030). Particularly, he mentioned that a new Agriculture and Water Cluster was included into the CAREC 2030's Operation Priorities. Mr. Capannelli also spoke on work carried out to establish the Almaty Knowledge Hub on Integrated Water Resource Management at the Kazakhstan National Agrarian University with the support of the Ministry of Agriculture of Kazakhstan. The Center is aimed at initiating a new approach to water education beginning from kindergarten. He pointed out to new perspectives for regional cooperation as a result of new and more open approach of Uzbekistan to this issue. This offers new opportunities for better interaction, particularly, in part of innovative technologies.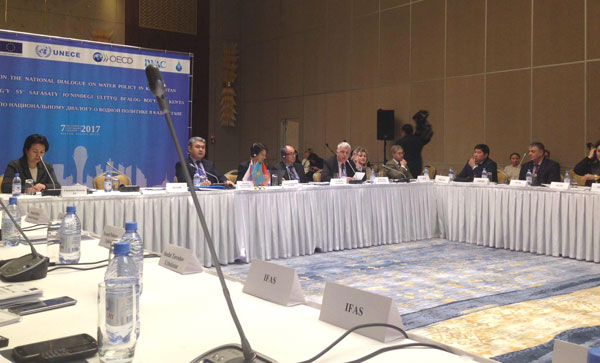 During Session 2 "National Policy Dialogues on Integrated Water Resource Management in Central Asia", the process coordinators in Kazakhstan, Kyrgyz Republic, and Tajikistan spoke on main directions and achievements in their respective countries. Information on National Water Policy Dialogue in Turkmenistan was presented by UNECE.
Session 3 was dedicated to cooperation of Central Asian states, Russia, and China on transboundary rivers.
Mr. Anatoly Bykov, Head of the Lower Volga Basin Water Authority, Federal Agency of Water Resources, Russian Federation, spoke on key areas of transboundary water cooperation between Russia and Kazakhstan. The focus was on the Ural River, including spring flood discharge, water accumulation in reservoirs, state monitoring, and water protection areas.
Mr. Hu Wenjun, Deputy Head of the Center for International Technical and Economic Cooperation, Ministry of Water Resources of the People's Republic of China, spoke on water cooperation of China with Russia and Kazakhstan.
Mr. Saulat Toreshov, Leading Specialist, Department for Water Resources Development and Implementation of Innovation Technologies, Ministry of Agriculture and Water Resources of the Republic of Uzbekistan, presented key areas of water cooperation of Uzbekistan with neighboring countries. A special focus was on new dynamics of interactions over the past year.
Mr. Muslim Zhienbaev, Head of Transboundary Rivers Department, Ministry of Agriculture of the Republic of Kazakhstan, made a factful presentation on multilateral water cooperation in Central Asia under umbrella of the ICWC, as well as on bilateral water cooperation of Kazakhstan with neighboring countries.
Ms. Dinara Ziganshina, Deputy Director of SIC ICWC, presented information on achievements of the ICWC over 25 years of its activity. She presented the final resolution adopted at the ICWC Anniversary Conference "The 25 years of Water Cooperation in Central Asia: Lessons Learnt and Future Outlook" held in Tashkent on November 23-24, 2017. She called the country representatives and development partners to consider directions of future actions set in this document when developing their programs and action plans.
In Session 4, "Priority thematic areas of the National Policy Dialogue in Kazakhstan", the participants talked on OECD Projects on water resource management and "nexus" (by Mr. A. Martusevich), transboundary groundwater problems (by Mr. Oleg Podolny, LLP Hydrogeoecological Research and Production, Design Firm "KAZGIDEK"), and scientific and educational components of the Berlin Process (by Mr. Almas Kitapbaev, Kazakh-German University in Central Asia).
On December 8, 2017, a special session was dedicated to the International Water Assessment Center (IWAC) in Kazakhstan to discuss IWAC potential contribution to further development of cooperation in the Central Asian countries under the UNECE Water Convention.
IWAC was established by the Meeting of Parties to the Water Convention at its seventh session in Budapest. In May 2017, the Government of Kazakhstan and UNECE signed the respective Memorandum. IWAC office was launched in Astana in August 2017.
IWAC aims at supporting implementation of the Convention, its Protocols on Water and Health, and their respective programs of work. The Centre's work will focus on Kazakhstan's neighboring countries, other Central Asian countries and beyond. The program of work of IWAC will be developed in close cooperation with the Government of Kazakhstan and the Bureau of the Water Convention and will be in compliance with the program of work of the Convention and the Protocol.
Prepared by Dinara R.Ziganshina