ROUNDTABLE OF THE KAZAKHSTAN WATER PARTNERSHIP "ACTION PLAN TO ACHIEVE SDG 6.5 (IWRM) IN KAZAKHSTAN"
On 27 May 2019, the Kazakhstan Water Partnership organized a roundtable on the "Action Plan to Achieve SDG 6.5 (IWRM) in Kazakhstan" dedicated to the 85th anniversary of the honored hydrotechnician N.K.Kipshakbaev, Chairman of the Kazakhstan Water Partnership.
The key speeches were delivered by leaders of the Ministry of Agriculture of the Republic of Kazakhstan and Global Water Partnership.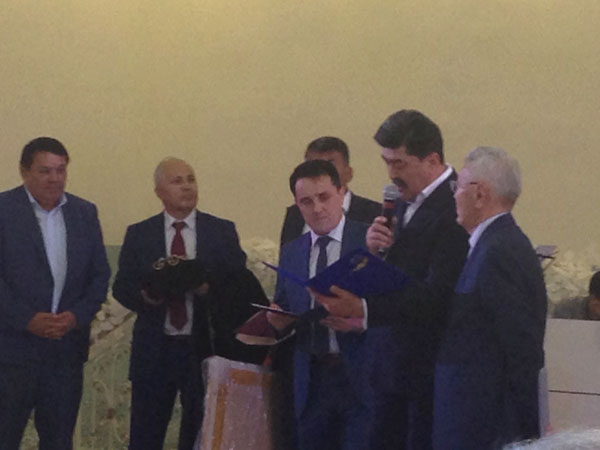 Then managers and chief experts of regional organizations and national agencies of Kazakhstan took the floor.
Prof. V.A.Dukhovniy, SIC ICWC Director, made a report on "Better water management to ensure sustainable water supply in Central Asia". The speaker called to use more actively a fresh impetus of political will expressed by country leaders at the Summit on 24 August 2018 in Turkmenistan, develop new forms of cooperation, including economic mechanisms (penalties for breach of water supply schedule and non-fulfillment of environmental releases; bonuses for water saving), organize permanent work of the expert panel to solve spot-on challenges, and enhance cooperation between the states as stipulated by the "Implementation Plan on strengthening ICWC activities in key directions" (water conservation, public participation, improved quality of water accounting, IWRM).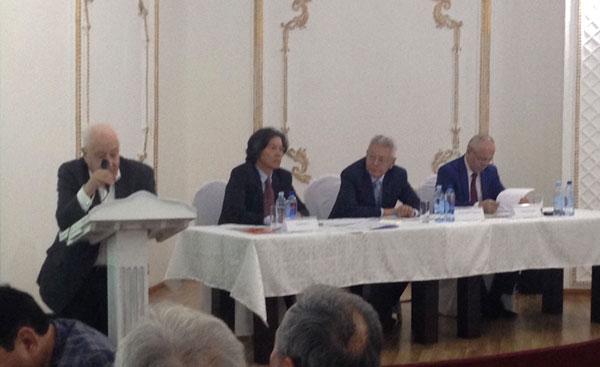 T.T. Sarsenbekov continued speaking on transboundary water cooperation. He noted the outstanding role of IFAS, potential of which should be kept after its reorganization. "The problem is not in water shortage, but in ourselves", he said. It is necessary not only to extend water cooperation, but also to train specialists in multi-discipline and have the broad-based knowledge, as well as to enhance scientific research and production activities to support water sector.
G.Imasheva, National IWRM Coordinator at the Committee for Water Resources of Kazakhstan, presented the Action Plan on IWRM implementation in the Republic of Kazakhstan, which was adopted at the national workshop on 12 April 2019 in Nur-Sultan and approved jointly by the Ministry of Agriculture and Kazakhstan Water Partnership. The plan includes a list of measures for such key areas as status and capacities of institutions, water law, IWRM tools, public participation and education, and transboundary cooperation.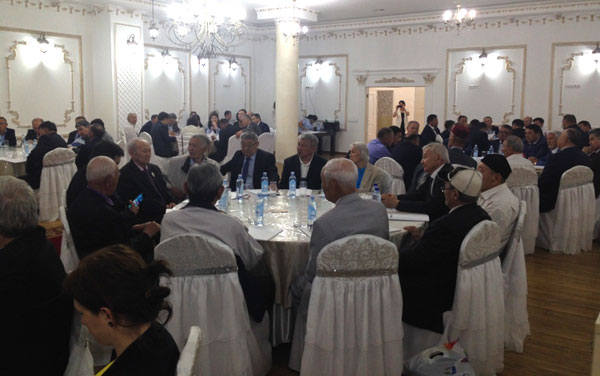 A.K.Kenshimov, Head of the Water Resources Department of EB IFAS in Kazakhstan, spoke about activities carried out in the Republic of Kazakhstan to improve the system of water sector professional development. The speaker noted that Kazakhstan lacks qualified water professionals at all levels of water management. The existing system of education is not adapted to the needs of the water sector, and graduates of higher education institutions are not in demand mainly because of the lack of engineering knowledge. In this context, a number of measures are proposed, including the development of the National Qualification System as a mechanism to regulate supply and demand for qualified staff in the labor market and to ensure interaction between education and labor market. M. Myrzakhmetov, KazNRTU named after K.I. Satbayev, continued speaking on the qualitative water education for sustainable development.
V.I. Sokolov, Head of the GEF Agency of IFAS in Uzbekistan, informed about the results of monitoring the progress on SDG 6.5 - IWRM in Uzbekistan. The average score for indicator 6.5.1 ("By 2030, implement integrated water resources management at all levels, including through transboundary cooperation as appropriate") was 45.15 points for Uzbekistan, which demonstrates the need to continue working to ensure full and effective implementation of IWRM.
B.K.Bekniyaz, Director of EB of IFAS in Kazakhstan, spoke on key projects implemented in the Kazakh part of Prearalie and future project work, including a regional project between Uzbekistan and Kazakhstan on improvement of environmental situation on the dried bed of the Aral Sea.
B.K.Yesekin, GWP for Central Asia and Caucasus, presented the Basin Social Corporation as a model for territorial management for sustainable development in the future. He noted that all indicators of Millennium Development Goals that track physical changes in environmental conditions only worsened for the last 15 years in the region. Consequently, stronger efforts are needed to ensure more efficient natural resource management and ecosystem protection.