SIC ICWC PARTICIPATED IN AN ONLINE CONFERENCE "IMPLEMENTATION OF GREEN TECHNOLOGIES AND INNOVATIONS IN THE ARAL SEA REGION WITHIN THE FRAMEWORK OF THE NEW EU STRATEGY FOR CENTRAL ASIA: COOPERATION BETWEEN UZBEKISTAN AND EUROPEAN UNION"
On the 22nd of October 2020, an online conference "Implementation of green technologies and innovations in the Aral Sea region within the framework of the new EU strategy for Central Asia: cooperation between Uzbekistan and European Union" was organized by the Institute for Strategic and Interregional Studies (ISIS) under the President of the Republic of Uzbekistan and the European Institute for Asian Studies (EIAS).
H.E. Dilyor Khakimov, Ambassador of Uzbekistan to Benelux countries and Head of Mission to EU, delivered opening remarks.
The first session was devoted to improving environmental, climatic and water resilience in Central Asia and developing cooperation in the Aral Sea region to mitigate the environmental disaster. Feruza Ganieva, Head of the International Department of the Ecologic party of Uzbekistan, spoke on measures taken in Uzbekistan in 2019-2020 to mitigate the consequences of the Aral tragedy. Cornelis Braams, UNECE Consultant, presented key findings of the 3rd Environmental Performance Review issued several days ago. It is available on www.unece.org/index.php?id=53764&L=0.
Deputy Director of SIC ICWC Dr. Dinara Ziganshina believes that the most important prerequisite for environmental stabilization in the Aral Sea region, along with the introduction of environmental technologies and innovations, is the development of cooperation between the Central Asian states in the sphere of long-term basin planning and water conservation. The expert noted that it is important to pay close attention to strategic interdisciplinary research and to ensure sustainable funding for science at the national and regional levels. In this case, science can inform decision-making process and serve as a bridge for building trust, as well as lasting peace and stability in the region.
Hamra Tajibaev, Deputy Director of the International Innovation Center for the Aral Sea Basin under the President of the Republic of Uzbekistan, spoke about the Center and its recent achievements.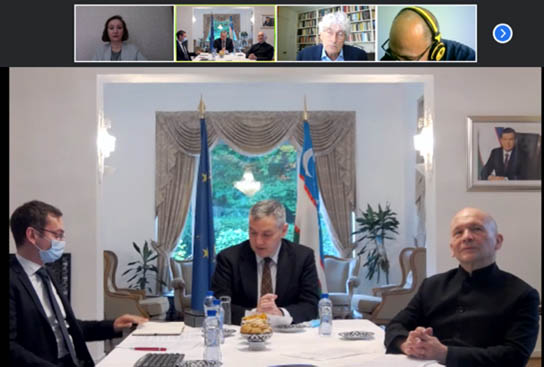 The second session was dedicated to the prospects for sustainable management of natural resources, protection of biodiversity, development of "green economy" and energy efficiency. Nozim Khasanov, Chief Researcher of ISIS, spoke about strategic directions of sustainable resource management development. Alberto Turkstra, Senior Associate of EIAS, noted important measures taken by Uzbekistan in the Aral Sea region and called for more active use of both innovation technology and approaches in the activities of organizations and involvement of all concerned stakeholders. Vadim Sokolov, Director of GEF Agency of IFAS, told about the activities carried out in the Southern Aral region and on the dried seabed, with an emphasis on the need for sustainable water supply for future interventions.
During discussions, the speakers noted importance of joint actions, technical solutions combined with social approaches, and responsible partnership and expressed the hope for further fruitful partnership between the European Union and Uzbekistan.