25TH INTERNATIONAL CONGRESS ON IRRIGATION AND DRAINAGE "TACKLING WATER SCARCITY IN AGRICULTURE" AND 74TH ICID INTERNATIONAL EXECUTIVE COUNCIL MEETING
The events that brought together representatives from almost 90 countries were held from 1-8 November 2023 in Vishakhapatnam (Vizag), Andhra Pradesh, India.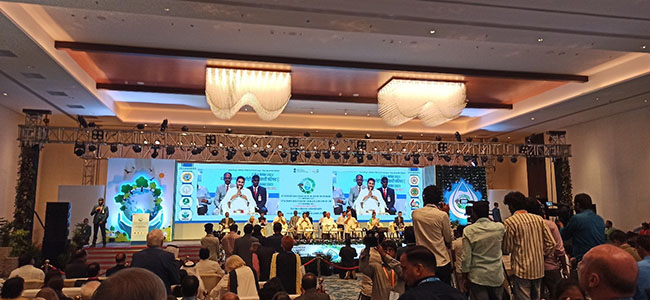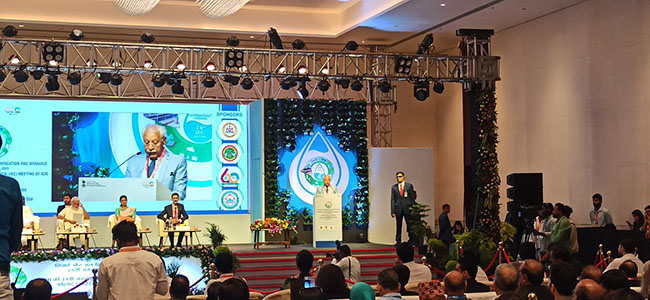 Opening ceremony


The three-day Congress was comprised of two plenary sessions, 18 thematic sessions and a number of side events to answer the two key questions:
(Question 64): What alternative water resources could be tapped for irrigated agriculture?
During thematic sessions, the participants raised common concern that the spatial and temporal variability in precipitation and water availability call for new approaches to water management. Most irrigation systems operate at levels below the achievable efficiency and have enormous scope to improve their productivity and efficiency.
Many new ideas were voiced, e.g. that in addition to the water withdrawn from surface sources, irrigation requirements of plants can be met through rainwater, greywater, recycled wastewater, and groundwater. Wastewater irrigation has long development history and has undergone different phases in developing and developed countries that desires appropriate safety practices. Adopting under-irrigation is also a strategy that can be highly beneficial in water-scarce conditions – this is proven by experience of Uzbekistan in the past 20-25 years.
(Question 65): Which on-farm techniques can increase water productivity?
In the course of thematic sessions, the participants underlined that substantially increasing productivity, not only in terms of physical outputs but also in economic terms, is essential to meet the goals of poverty alleviation, food security and water security. Water productivity is dependent on, among others, water management practices and agronomic practices. Here, we have a big room for improvement. Productivity at different levels of the irrigation system needs to be critically analyzed to effectively guide policy interventions and practices vital to achieving the desired objectives. Interventions that close the "yield gap" between a farm's current yield and its higher potential yield are needed.
Reporters presented several different approaches by which farmers can improve water productivity. Options include those related to plant physiology, which focus on making transpiration more efficient or productive, agronomic practices, which aim at reducing evaporation, and on-farm agricultural-engineering approaches, which aim at making water application more precise and more effective. In this context, the participants shared the beneficial results of laser land leveling for field preparation and a wide spectrum of water conserving techniques. Emerging technologies present a vista of new opportunities such as precision agriculture, biotechnology, sensor technology, bioinformatics, climate-smart agriculture, robotics, drones, artificial intelligence, etc.
The 74th ICID International Executive Council meeting took place on the 5th of November.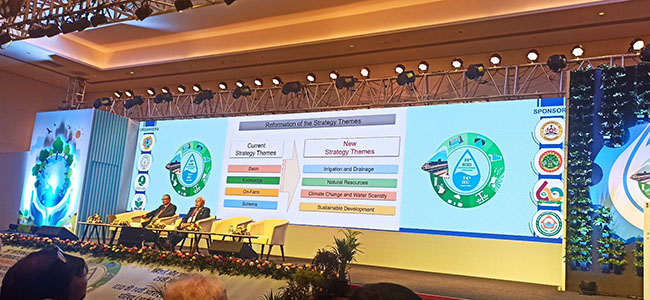 The International Executive Council (IEC) is the highest decision-making body of ICID. It is vested with the management of the affairs of the International Commission on Irrigation and Drainage. All matters of policy that may be initiated or sponsored by any member National Committee or Office Bearer or by the Management Board come under its purview. It may itself initiate and determine or otherwise advise and lay down any policies, decisions pertaining to the matters of strategic importance for ICID. All matters affecting the executive or administrative functions and financial liabilities of ICID must come up before the Council and its decision shall be conclusive. The Central Office of ICID (situated in India) shall act as an instrument for carrying into effect all decisions taken by the Council.
Work body meetings under the Permanent Committee for Technical Activities focusing on four strategy themes of ICID took place on 5-6 November.
The following working groups (WG) had their meetings on the river basin theme:
WG on environment (WG-ENV)
WG on sustainable development of tidal areas (WG-SDTA)
WG on managing water scarcity under conflicting demands (WG-MWSCD)
WG on climate change and agricultural water management (WG-CLIMATE)
WG on adaptive flood management (WG-AFM)
WG on irrigation and drainage in the states under socio-economic transformation (WG-IDSST).
WG on water, food, energy nexus (WG-WFE-N)
Task Force on transboundary water (TT-TBW-AWM)
On the irrigation scheme theme, the below working groups have gathered together:
WG on institutional and organizational aspects of irrigation/drainage system management (WG-IOA)
WG on modernization and revitalization of irrigation schemes (WG-M&R)
WG on irrigation development and management (WG-IDM)
WG on water saving in irrigated areas (WG-WATS)
WG on rain water harvesting (WG-RWH)
WG on land drainage (WG-LDRG)
On the on-farm theme, the meetings of the following working groups took place:
WG on sustainable on-farm irrigation system development (WG-SON-FARM)
WG on use of non-conventional water resources for irrigation (WG-NCWRI)
On the knowledge theme, the below working groups gathered:
ICID Journal Editorial Board (EB-JOUR)
WG on history of irrigation, drainage and flood control (WG-HIST)
Task Force to guide ICID inputs to 10th World Water Forum (TF-WWF10)
WG on value engineering (WG-VE)
Task Force for updating and maintenance of multilingual technical dictionary (TF-MTD)
WG on capacity development, training and education (WG-CDTE)
On November 8, as part of the 74th IEC meeting, the new ICID President and three ICID Vice-Presidents were elected for the period 2024-2026.
The new elected officials are:
ICID President: Dr. Marco Arcieri (Italy), who replaced the retired Prof. Dr. Ragab Ragab (Great Britain)
ICID Vice Presidents:
Dr. Fuqiang Tian (China);
Dr. Vadim Sokolov (Uzbekistan);
Dr. Watchara Suiadee (Thailand)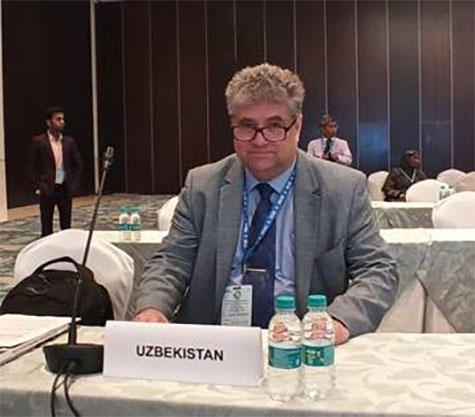 Head of IFAS Agency Vadim Sokolov
represents the Uzbekistan National Committee on Irrigation and Drainage
at the 74 IEC meeting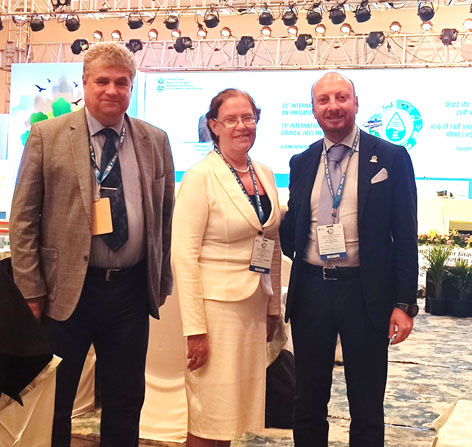 Newly elected Vice President Vadim Sokolov (Uzbekistan),
Honorary Vice President Irina Bondarik (Russia)
and newly elected President Marco Arciery (Italy),
from left to right


Source: IFAS Agency for Implementation of the Aral Sea Basin Projects in Uzbekistan