Regional Cooperation
The main objectives of SIC ICWC are as follows:
Coordination of all joint activities in the region;
Permanent providing information to all ICWC members about all changes in the field of water management;
Strengthening legal base and capacity building;
Strengthening collaboration in water resources management and use based on the up to date world experience;
Initiating and coordination of regional projects;
Organization of the Training Center ICWC activity.
According to the above objectives SIC ICWC together with BWOs and Secretariat arrange ICWC quarterly meetings under chair of representatives of different states.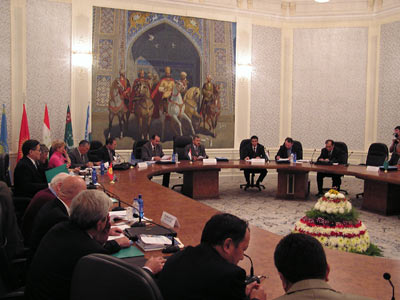 Among the main issues considered at the meetings are the following: developing the common water management policy and its major guidelines taking into account the interests of the population and sectors of economy, rational water resources use and conservation, programs designed to increase the amount of water available in the river basins and measures ensuring their implementation; approving annual water use limits for every state regarding main water sources, operational schedules of large reservoirs; managing water allocation and its adjustment according to the actual water availability and current water management situation.
ICWC works on the ecological programs connected with the Aral Sea desiccation and water sources exhaustion, setting up annual water supply to the Aral Sea as well as sanitary flows in rivers and canals.
At the meetings the following issues are discussed: draft interstate agreements on common water resources use, water use legal aspects, development of the common information base on water resources use, irrigated lands monitoring, hydro meteorological aspects, scientific-technical provision of the regional water systems, etc.
SIC ICWC facilitates IFAS efforts in the regional integration for the Aral Sea problems solution.
SIC ICWC jointly with research and design institutes of Central Asia coordinates and arranges research within the framework of ICWC international program. This program is approved by ICWC once every two or three years, financed by Ministries of Agriculture and Water Resources and aimed at scientific grounding for the main elements of ICWC policy in development of irrigation, water saving and water resources management and use without conflicts.
Research outputs serve as a ground for water practice perfection and were presented at the workshops and in SIC ICWC publications.